Next-Generation Biologics for Cancer & Infectious Disease
Multispecific biologics represent the future of medicine. Many untreatable diseases arise from aberrations in multiple pathways, yet most medicines only act on single targets. The creation of medicines that simultaneously act on three or more targets – true multispecifics – has been hampered by a lack of adaptable and easily manufactured biologic platforms that can address disease complexity to this degree.

ModeX overcomes these challenges by combining natural protein structures to create unique multispecific antibodies.
TREATING
Cancer
The diversity of antigens expressed by tumors helps them evade treatment. Mono-targeted therapies and combination strategies may eliminate some cancer cells, but others persist because they don't express the right targets or because they express targets that help them survive the attack. Combination strategies also have long development timelines and lack precise control over immune activation, posing toxicity and efficacy challenges.
Multispecifics can solve these shortcomings by expanding the number of simultaneously targeted tumor antigens and enabling better control of immune system activation.
COMBATING
Infectious Disease
Mono-targeted therapies and vaccines often only address a fraction of a diverse viral population, leaving the door open for the virus to persist and potentially become more infectious or deadly.
Multispecific medicines provide a way to swiftly stop an infection because they provide coverage against a broad set of viral strains, leaving none behind.
MORE IS BETTER
Our MSTAR Platform for Multispecific Antibodies

monoclonal
antibody
Arrow
ModeX
module library
Arrow
multispecific
antibody
Arrow
Arrow
variable
region
constant
region
With our multispecific antibody platform, MSTAR, we can reliably and rapidly generate candidates that target up to six distinct biological pathways in a single molecule for the first time. This dramatically expands the therapeutic potential of antibodies.
Our MSTAR innovations build on nature's approach to diversity:
Inclusion of antibody constant region optimizes immune engagement, prolonged half-life, safety and manufacturability.
Simplified gene expression enables efficient manufacturing and facilitates gene-based antibody delivery.
Modular design allowing rapid testing of numerous combinations of antigen-binding domains to target multiple sites. This assessment of many combinations lets us maximize specificity, minimize off-target effects and improve therapeutic efficacy.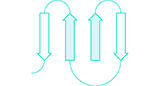 Structure-based rational design allows refinement of activity and specificity of multitargeting.
GUIDED ACTIVITY
Our STEALTH Platform
masked
unmasked
Immuno-modulatory antibodies have incredible potential to treat cancers but risk damaging healthy cells when applied to targets lacking tumor-restricted expression. Our antibody-masking technology, STEALTH, functions as a safety net that localizes immune attack specifically to tumors.
Our STEALTH technology is compatible with both our MSTAR multispecifics and other antibody formats.
HITTING A MOVING TARGET
Our Nanoparticle Vaccine Platform
Presenting more copies of an antigen to the immune system increases the potency of a vaccine. But existing technologies make compromises between the total number and diversity of antigens – which dilutes their potency.
library of antigens
Arrow
selection of antigen A
selection of antigen B
ferritin
up to 24 copies of antigen
mounted on ferritin nanoparticle
ModeX overcomes these limitations by using a modular nanoparticle vaccine platform built on naturally occurring and self-assembling ferritin molecules. These particles present a 24-strong array of each antigen that is optimally sized to reach immune cells in the lymph nodes.
We believe the versatility and potency of our approach will enable us to tackle many major infectious diseases that have eluded effective vaccination due to their continual evolution and immune evasion.
Publications and
Presentations